Centenary Freespan Verandahs and Pergola

Centenary Freespan Verandahs and Pergola in planning your Outdoor area a Freespan Verandah might just be the innovative & fresh outcome your searching for.
Freespan is unlike what has been available over many years via traditional timber & steel structures. Timber and many other steel structures feature beams, rafters and battens then collar ties (when a Gable structure is considered).
Totally Outdoors and Fielders Centenary have developed the "freespan verandah" reducing this clutter.
So whats is "Centenary Freespan Verandahs and Pergola"?
Well in a nutshell there is no rafters, batters or collar ties required in a wide range of widths and design styles.
This development using Centenary C deck High Tensile roofing or Solarspan Insulated Roofing provides a clean non clutter approach to the modern Verandah.
Freespan clean lines and the omission of low collar ties provides a great feeling of space. This options is only available in Centenary Verandahs with spans up to 8meters in Freespan. Some options offer up to 12 meters. Fielders Centenary Verandah simply is the leader in premium quality steel products for outdoor entertainment areas.
Freespan is available in Centenary Full range of roof colour options and features in the Centenary C deck option. C Deck provides a grooved underside for a "lining type gloss finish" providing a sensational visual outcome with double sided colour finish.
Solarspan Insulated Roof provides a full Alfresco ceiling finish plus insulated for temperature control with the added bonus of no condensation. No wet furniture again.
Why is Centenary Freespan better than the rest?
Fielder Centenary provide the best clear spans and design flexibility within the Australian market for a number of reasons.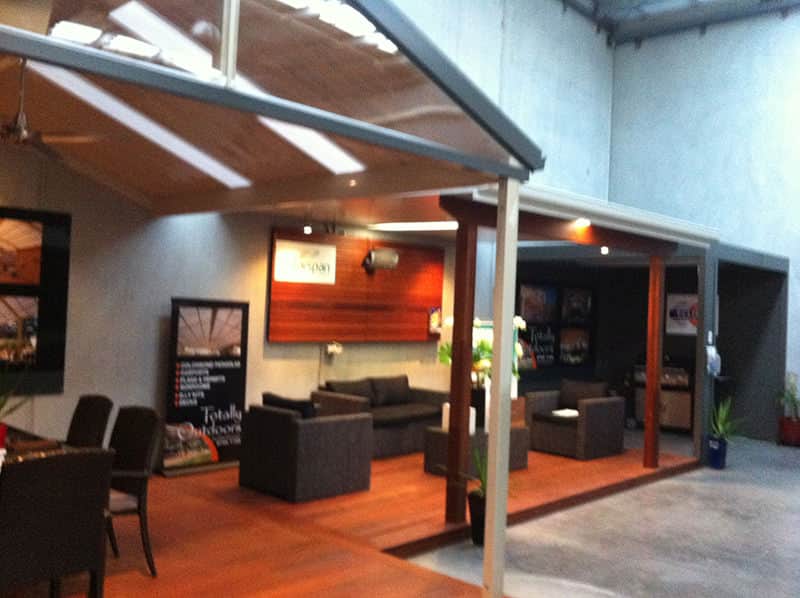 Bigger Beam Sizes – assist's with providing extra strength of each member. Full steel connectors without need for plastic fillers.
Two Piece Construction – providing less deflection and contributing to extra stability and performance under most climate climate conditions.
Fully Engineered – Nothing left to chance Fielder Centenary Distributors are fully trained in cutting edge computer engineering to ensure that your project specification is checked and double checked for each and every project.
Made to Measure – all Centenary Freespan Verandahs and Pergola are made to measure. Pre-cut at manufacturer ensuring better joins and fit for your quality project.
Premium Grades – there's no games Fielder Centenary only produce a premiun range of products no lesser products to confuse its customers.
Confidence – As part of Hills Industries Group – Fielder Centenary has been a company assisting and supplying its customers for over 100 years. Fielders Centenary offering a 20 years manufacturers warranty says it all.
Display Centre – Totally Outdoors display centre open weekdays and weekends (by appointment) is available to view product and provide project estimates for your upcoming outdoor entertainment project.

So if a Totally Outdoors Centenary Freespan Verandahs or Pergola might just be what your looking for "modern, fresh and innovative outdoor structure constructed by an experienced  builder then we  suggest
Contact Us – If your thinking for getting your project underway why not give us a call to arrange for a FREE onsite design consulation or arrange a private inspection of our Display Centre
Telephone: (BH) 9796 7158
Email:  via our Contact Us Page and we will contact within 48 hours to discuss your needs
Location: Our under cover display centre is at Factory I, 26-28 Abbott Road Hallam Monday to Friday 9.00am to 4.30pm or Saturdays by appointment.
Verandah Designs: Display Centre features a range of Verandah Designs including Centenary Freespan Verandahs and Pergola plus Solarspan Insulated Roofing and Eclipse Opening and Closing Louver Roofing.
Totally Outdoors is a platinum distributor for Fielders Centenary Patios and Verandahs.