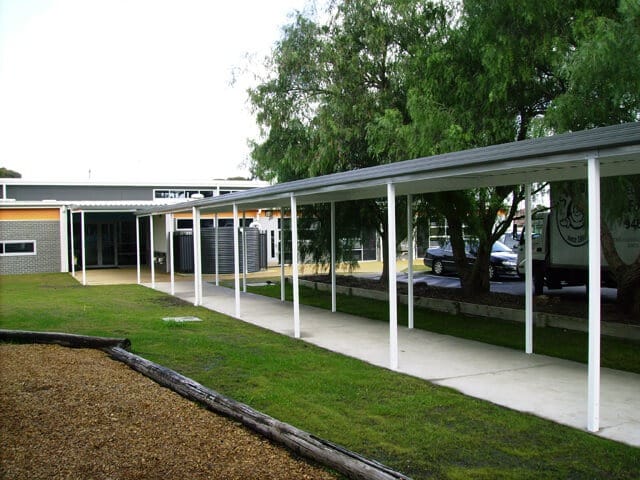 Outdoor Covered Area School Projects
Totally Outdoors provides a comprehensive service to ensure the durability, safety, and visual outcome provided to our domestic projects are equally provided to outdoor covered area school projects.
Our process of providing architectural plans  arranging council & building permits, extended manufacturer's warranties, plus our own 10 Year Workmanship Warranty, provides your school with the right solutions for your project to be built to last. We have commercial outdoor builders that ensure quality is always delivered.
We have worked with many schools in Melbourne to provide a range of awnings for schools. These include walkway covered for schools, awnings for schools, outdoor school projects with shade or protection from the elements being the primary goal.
Walkways, Entrance & Exit Covers
With our strong range of product solutions, we can provide a simple structure up to 10m wide. The benefits product fantastic advantages where open space and coverage are important. Our colorbond projects also ensure high durability and visual outcome backed by the manufacturer's warranty of 30 Years.
Our prior experience provides us with the ability to schedule our work during school breaks, ensuring safety and compliance further justifies the reason to consider Totally Outdoors when planning your next project.
Walkways and Classroom entrance and exit cover are often areas of need in our growing schools. Design options including cantilevered, gable and skillion style are perfect product solutions for the high traffic of a busy school.
A small snapshot of our completed projects below may assist with planning your project and seeing the outcome we can deliver to your school from "concept to completion"
We welcome your enquiries about outdoor projects for schools in Melbourne.
Contact us to discuss your needs, or come in for a chat at our display centre to explore your options so you can better visualize your dream outcome.