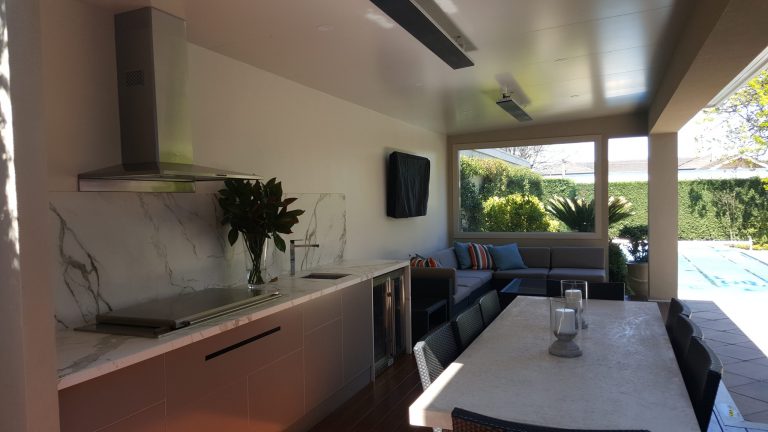 The establishment of an outdoor room is growing in popularity as Aussies love to entertain outside and Melbourne Outdoor Rooms are where things get really popular. Totally Outdoors is at the forefront of understanding modern Australian outdoor living areas.
Outdoor rooms are often open plan with some walls or screen areas to create privacy or control. The outdoor room may well be accommodating a kitchen or BBQ cooking area, outdoor dining, lounge, bar, TV, and room for other outdoor activities. Enclosed Outdoor Rooms allow for outdoor entertainment areas. Totally Outdoors is Melbournes best outdoor room builder.
What Finishes Do You Recommend?
Generally, size and scope will determine our options. First, we start with the roof so that light, comfort (heating and cooling), lighting, and heating can be considered. Insulated ceiling roof options combined with more verandah options, such as louvers, can often tick these boxes.
Totally Outdoors is not one dimensional with frame materials. We build using a variety of options including aluminum, colorbond, timber and rendered outcomes. It comes down to what the outcome should be and how it blends with your other buildings, such as the main dwelling.
Contact us to discuss your needs, or come in for a chat at our display centre to explore your options so you can better visualize your dream outcome.