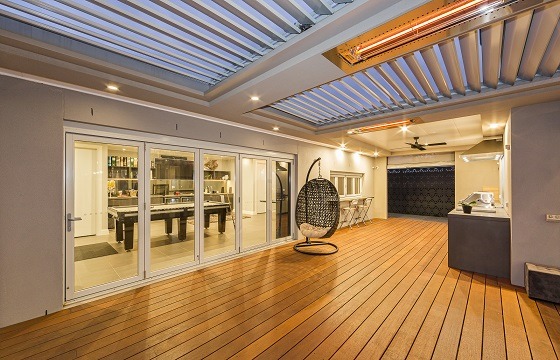 The Best in Residential Louvre Roofs
Louvre verandahs are a perfect choice for those who want to create an outdoor living environment that is both stylish and functional.engineered with quality components, they provide the ultimate lounging experience while still being able blend in seamlessly with its surroundings
The design has been created by our sister company Project Centre Materials which ensures all aspects from engineering through manufacturing meet high standards set forth within their industry.
The Ultimate Louvre system is an advanced system designed to provide durability and performance to Australia's varying climate conditions. We are proud our system ensures the long life of your product. Seaside, rain, and sun all provide hazards to the durability and performance of products outside. With normal care and maintenance, our product has the best available solution to ensure its performance matches or exceeds all similar products available.
Controlling light and shade to your outdoor area and your home with a sensational benefit of Ultimate Louvre Verandah. Opening and Closing your louvres provide you ability to deliver full light, self-controlled shade and weather resistance via the automatic rain sensor, which comes standard with all our projects.
You are on a winning system as Totally Outdoors was awarded Melbourne Home Show Winner for 2017 & 2019 featured the fabulous benefits of the Ultimate Louvre System can provide to your house.
Full 175 Opening Path providing multiple shading options
Extruded aluminium louvres with marine-grade durability
Remote-controlled opening & closing system with rain sensor
Aluminium & marine grade stainless steel pins and motor
Multiple louvre styles L150 & L200
Incredible louvre spans up to 5.2 meters.
Australian Designed & Made
Our system, designed and made in Melbourne, has considered the items that ensure the long life of your product.
IP07 Water-resistant Motor plus Marine Grade Aluminium and Stainless Steel connections and tracks for outstanding durability.
The Ultimate Louvre System provides superior durability and performance. So with normal care and regular maintenance, our product is the best available solution to ensure its performance matches or exceeds all similar products available.
Contact us today to discuss your outdoor living space needs, or come see what we have in store for you at our display centre. You'll be able visualize it better after that!